Salvete omnes! Domum in rete Magistri Lupifili advenistis.
Welcome to the web page of Brian Hyland, mild-mannered gladiator* by day ...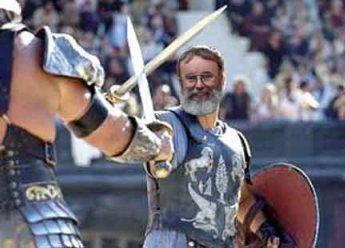 ... energetic Irish musician by night. If you were expecting ANOTHER Brian Hyland, be advised that this is a Yellow Polka Dot Bikini free zone!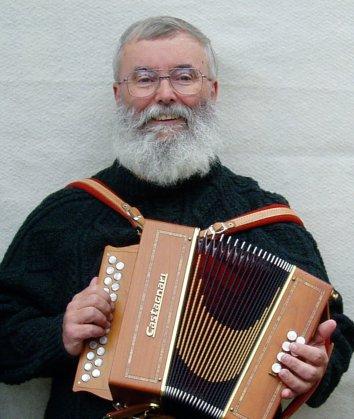 Since 1975, Brian Hyland has performed traditional Irish dance tunes, pub songs, sea chanteys and original songs throughout the Northeast, Ireland, Britain, Germany, Israel, and now Oklahoma. Brian plays the following instruments: Anglo and English concertinas, pennywhistle, harmonica, piano and button accordions, flute, bodhran and bones.
Brian performs regularly as a solo act and with The House Session. Brian is also part of Timahoe Tower, a trio named for the small town in County Laois where his Hyland ancestors came from.
In addition to his musical career, Brian is a classical scholar who has excavated at Caesarea Maritima, an archaeological dig in Israel, and won a DAAD graduate fellowship to study papyrology at the Institut für Papyrologie at the Ruprecht-Karls Universität Heidelberg, Germany. Brian worked full time at Seton Catholic Central High School in Binghamton, NY for thirty years as a teacher of Latin and Social Studies. In his spare time, Brian coached cross country, track and field, and mock trial. In the summer of 2009, Brian won a fellowship from the Korea Society to take part in a 17-day workshop in South Korea for American educators, and in the summer of 2015, he won a fellowship from the NCTA to take part in a similar 17-day workshop in Japan and China. Brian is currently the associate curator of medieval manuscripts for Museum of the Bible in Oklahoma City.
*And as of February 2009, Brian is a proud graduate of the SCVOLA GLADIATORI ROMA, equally adept as a Samnis or Retiarius.