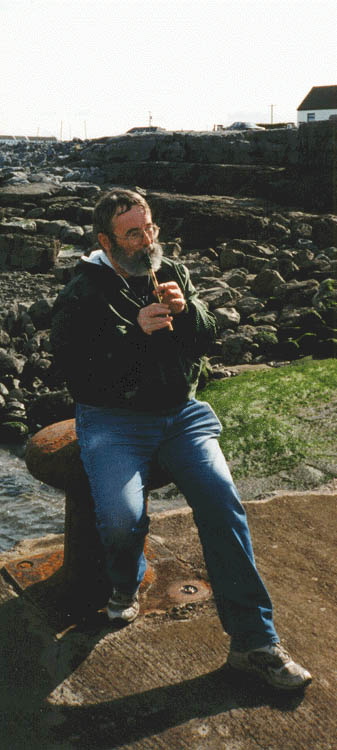 Solo: 1975 -- present. Traditional Irish and American dance music and songs, sea chanteys.

Glenside Four / Trio: 1975 -- 1977. Binghamton, NY pub band. Irish songs of rebellion, drinking, work and love.

With Peggy Hyland: 1978 -- present. Traditional Irish and American songs, featuring a capella harmonies.

The Motteley Bande: 1982 -- 1984. Chicago, IL Celtic and Renaissance band. Irish, Scottish, Welsh and Breton melodies and songs from the 14th to the 20th century.

Innisfree: 1987 -- 1992. Binghamton, NY traditional Irish and Appalachian band. Traditional melodies and songs from both sides of the Atlantic combining Celtic lyricism with Appalachian energy.

Bi-Monthly Jam Session: 1992 -- 1995. As a member of the Twin Tiers Irish Arts Branch of Comhaltas Ceoltoiri Eireann, Brian led the session which met at Jonathan's Restaurant in Endwell, NY on the first and third Sunday of every month.

The Hylands: 1992 -- present. Binghamton, NY family band. Songs in Gaelic and English representing 400 years of Irish vocal music, blended with traditional airs and dance tunes.

Celtimorphosis (with Chris Woodard): 1993 -- present. Binghamton and Ithaca, NY blend of Celtic melodies with jazz chords and rhythms.

West o' Clare: 1994 -- 2008. Southern Tier "All-Star" band performing the full range of Irish music from traditional to American-Irish, with country, swing and rock thrown in for good measure. Often appeared in spin-off duos with Pat Kane, Rob Spence or Shawn Reap.

With John Hyland: 1997 -- 1999. Irish music with a swing.

With Donal O'Shaughnessy: 2008 -- 2016. Irish songs, original songs, dance tunes, jokes, stories and a high-energy good time.
With The House Session: 2017 -- 2020. Trad tunes in a session style, with as many as 10+ musicians showing up. Trad music has returned to OKC!
Timahoe Tower: 2018 -- 2020. Very traditional trio performing the dance music of Ireland, with a sprinkling of pub tunes. With Angela Botzer on fiddle and Peggy Hyland on bodhrán and vocals.
Damáiste Stoirme / Storm Damage: 2018 -- 2020. Sextet with Marcus Ayers on fiddle, Peggy Hyland on bodhrán and vocals, Steve Montgomery on guitar, Jerry Stivers on mandolin and vocals, and Mark Strange on bass. High energy band playing "craft Celtic music."